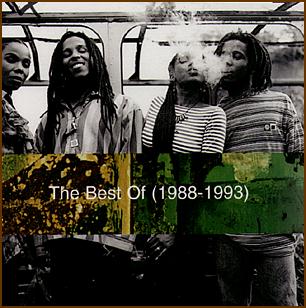 "The Best of" Ziggy Marley and
the Melody Makers (1988-1993) (1997, Virgin)

When producer Leslie Kong released a "Best of the Wailers" compilation back in the late 60's, Bunny Wailer's response was quick and concise. How can he release a "best of", wondered Bunny, when the best is surely yet to come. One might well echo Bunny's sentiments when presented with this Melody Makers retrospective.

On the other hand, the album does serve a clear purpose by bringing together many of the band's most popular songs in one attractively packaged CD. For those looking for an introduction to the band, this is a good place to start. The 17 tracks on the album chart a remarkable course of youthful verve and invention to artistic maturity. For those who have followed the Melody Makers throughout their career, it is also a timely reminder of just how deep their catalog already is.