San Francisco, CA
The Emperor Haile Selassie was probably not the first thing on the minds of the panhandlers who worked the long line of Marley fans stretching around the Warfield Theater in the early evening of July 23, 1998. But some of those fans no doubt recognized the importance of this day, the 107th anniversary of the Emperor's birth. We also knew that we were in for a special night.
Inside the theater, an historic and lavishly decorated (if slightly worn) structure, the Melody Makers prepared to take the stage. The significance of the night was of course not lost on the band; the show that followed had to have been one of the best of the current tour.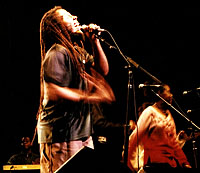 Opening with a strong "Power to Move Ya", the Melody Makers instantly made the vibes right. Displaying their diverse yet complementary talents, Ziggy and Stephen alternated vocals throughout the show. In a seamless and exhilarating performance the band mixed songs from their now extensive repertoire with some of the father's best and most well known songs. Particularly memorable were their cover of Curtis Mayfield's classic "People Get Ready" featuring Stephen's lively dancehall vocals, an updated, bass-heavy version of Bob's "Three Little Birds", a rousing "Day by Day", and a classic rendition of another Marley anthem, "Jammin'".



The best moment of the night may have been when the band returned to the stage for a three song encore that featured a stretched out and speeded up version of "Could You Be Loved". We were treated by a special guest appearance by members of the newest Marley generation (future Melody Makers perhaps?), a diminutive but enthusiastic crew that crowded the stage for the finale. By this time the heavy reggae rhythms and the positive vibes had no doubt reached everyone in the venue. They did, indeed, have the power to move us. We left the Warfield uplifted and energized. San Francisco will look forward to the return of Marley magic.

-- Reviewed by Rebecca Frydman and Carolyn Weiss
Guestbook | The Music | The Melody Makers | The Marley Store

Copyright 2000, Bob Marley Music. All Rights Reserved. Photos by Rebecca Frydman and Carolyn Weiss